2020 might not be a great year for many of us due to the global pandemic caused due to the deadly virus but it did bring a great fortune for our celebrities who thought this to be the best time to get married and spread some light of joy. And no doubt these weddings made us all excited and equally surprised. Let's see all the celebrities who got married amidst the pandemic.
Sajal Ali and Ahad Raza Mirz

a
after their happily ever after in yaqeen ka safar, the fans were waiting for them to have their happily ever after in real life too. The doctor duo finally announced their engagement on June 10, 2019 with a very cute picture on their social media. Since then their fans were eager to see them get married which finally happened on March 14, 2020. The couple had their destination fairytale wedding in Abu Dhabi and we just couldn't take our eyes off them.
Samina Ahmed and Manzar Sehbai:
Who says there's a specific age for getting married? Age is just a number! Samina Ahmed and Manzar Sehbai proved it by getting married at the age of 70 in a very intimate family affair on April 4, 2020. The news spread the wave of joy among the people and the couple received all the praises for breaking the stereotypes and setting an example that love is ageless.
Hina Altaf and Agha Ali:
When fans were heartbroken by Sarah khan and Agha Ali parting ways, this sudden news of Hina Altaf and Agha Ali tied the knot led everyone surprised. They were seen together celebrating birthdays before but announced they were just friends. The couple then confirmed on their social media accounts that they got nikkahfied on jummat ul widah i.e. 23rd May 2020. The couple declared that they had a very intimate Nikkah event due to the pandemic.
Shahroz Sabzwari and Sadaf Kanwal:
The internet broke after Shahroz Sabzwari and Syra Yousuf parted ways but the internet got wild when Shahroz Sabzwari and Sadaf Kanwal announced their wedding. This lead to the controversy when Shahroz made a video denying all the accusations about relationship with Sadaf and declared they were just friends but then marrying her later. But the couple handled the criticism really well and seems they were not affected by it.
Sarah Khan and Falak Shabbir:
We think celebrities have adopted a new trend of surprising their fans by breaking this sudden news of getting married. The same goes for Sarah khan who broke the news of getting married to singer Falak Shabbir on her Instagram stories saying 'I said Yes'. A fairy tale moment was seen when Falak went down to his knees while singing a song to propose to Sarah on her birthday i.e. 14th July 2020. The couple got married on 16th July 2020.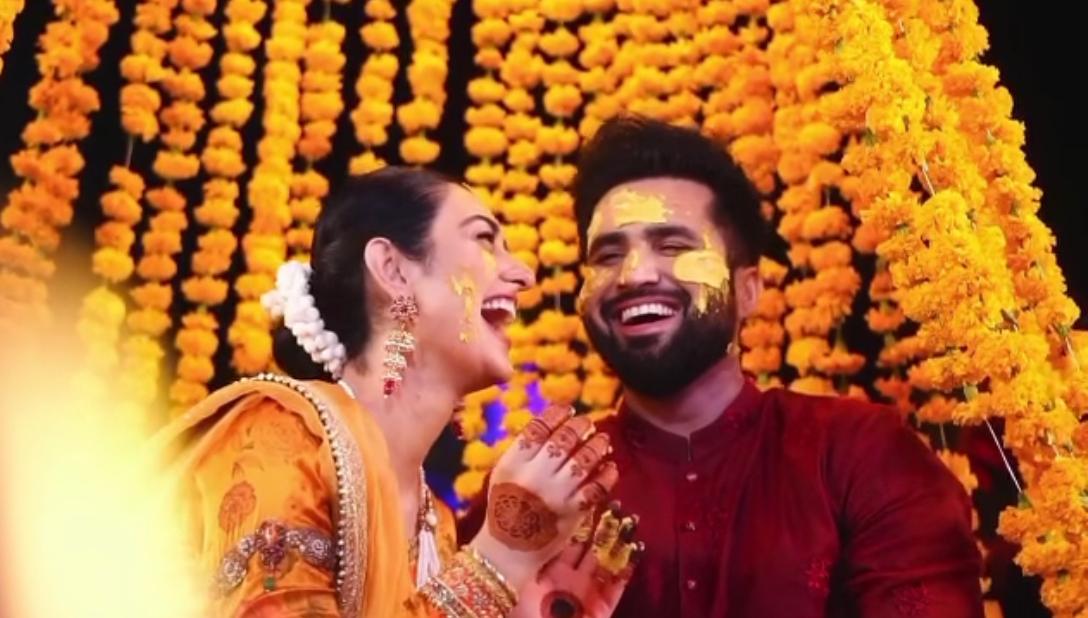 Sana Javed and Umair Jaswal:
2020 has brought a really good fortune for singers. After Falak Shabbir, Umair Jaswal is the lucky singer who got married to Sana Javed. The khaani star and the rock star got married on 20th October in an intimate family event. The couple was seen together before on a red carpet of an award function and the rumors had it. The couple posted beautiful wedding pictures on their Instagram accounts and we just couldn't take our eyes off them.